Carlota Novo Gonzalvo is an illustrator and graphic designer from Vigo (Galicia) who, less than a year ago, decided to move to Utrecht (The Netherlands) to grow professionally. Her work revolves a lot around skateboarding, especially, the vision of women in «an industry created for and by men». One of these series with which she reclaims the image of women in the skateboarding scene is Skater Girls under the slogans Not Just Boys Fun and Skate Like a Girl.
What made you leave Spain and move to Utrecht?
Galicia will be always my favourite place, but for as long as I can remember, travelling, being able to experience different kinds of lifestyles and learning from other cultures, have been some of my goals in life. My family has always supported me in all the decisions I've taken. When I was 16 years old I had the opportunity to study abroad for one year in The United States. Not only did this experience help me improve my English skills, but it also let me meet amazing people and appreciate a lot more what I have. This experience increased my desire to keep on travelling and learning.
I studied Graphic Design in Vigo and one year after graduating, the company I did my internship with wanted to hire me for their London based agency, to what I said "yes" without thinking twice. Their work routines and the pace of life is totally different from the Spanish one but I got used to it easily, and despite the horrible weather, being from Galicia has helped me appreciating the rain in a different way.
After a year in London I took the decision to move back home, where I worked as the Graphic Designer and Business Development Manager of an online store, as well as freelancing for local projects. By the end of last year, the thought of moving out of my hometown to expand my career and grow as a graphic designer and illustrator started going around my head. Before moving to The Netherlands, I had already visited the country a few times, so I knew about their culture and lifestyle. Its geographical location and knowing some Dutch people were key factors to finally move to The Netherlands.
Utrecht is the fourth most important city of The Netherlands, why there and not another city such as Amsterdam?
I grew up in Vigo, a relatively small town, and even though I was looking for a complete different experience when decided to move, I also needed to feel comfortable. Amsterdam is an amazing city, it has lots of things to offer, it's a lot more international and there's always something to do there. However, it's a very chaotic city and attracts lots of tourism. I've never been a big fan of crowded places, that's why Utrecht seemed like a great option for me.
Utrecht is located in the middle of The Netherlands, which makes it easy to access other cities such as Amsterdam, Rotterdam, The Hague or Den Bosch. Utrecht is a charming city, full of canals, terraces, parks and there's an outstanding art culture. There are lots of workshops, free outdoor concerts and meetups to any kind of activity. All that creativity, that easy access to cultural diversity was what attracted me and determined my final decision to moving to Utrecht.
Your work revolves around the skateboarding scene, did this hobby rise up in Utrecht, or has it always been there?
The skateboarding culture has always drawn my attention, the sport itself as well as everything revolving around it. Skateboarding is all about trying, failing and trying again until you achieve the trick you've been praticing for hours, and I believe the same happens with illustration and graphic design. We all always try to get better, learn new techniques to compete with the best ones out there, and to be able to do this, you have to fail first. I consider skateboarding and art two subjects that must go together, and they both help me express myself in two different ways.
When I started skateboarding, I didn't really care about my setup or skateboard brand. I wouldn't care about having a board from Girl, Santa Cruz, Alien or Baker, but what I really wanted was to have the coolest graphic. As a Graphic Designer, graphics on boards are something to think about when choosing a new board, and nowadays it's still something I look for in a skateboard. Part of my inspiration comes from artists that mostly work in the skateboarding industry, from Ed Templeton with his legendary illustrations for Toy Machine to Lucas Beaufort with his colorful monsters celebrating skateboarding tricks.
What differences do you find, in a professional level, between Utrecht (The Netherlands) and Spain? Do you find differences in creative processes, business organization, work teams, colleague relationships, clients, estimates, salaries…?
The first thing that grabbed my attention when I started working here was how much my work is appreciated, how they understand and respect my job. There's not as much intrusion as you can find in Spain. People here practice the job they've studied for and there's no need to know about other fields you're not familiar with.
Dutch people are very direct and open in their communication. If they're not happy with something, they will let you know no matter what, but also they're very grateful when the work is well done. In general, they have a great visual culture and if they don't agree with the price you've given them they will tell you and will find someone else who will accomplish their expectations and accept their conditions.
A bit after settling in in The Netherlands, I started working as a freelancer for a Dutch company that focuses its work in helping start-ups growing up. In my case, I work from home, which to many people may seem like the perfect job. I have the freedom to organize my work schedule, always delivering the work on time and reaching the deadlines. I'm always in contact with my colleagues, whether via Slack or through phone calls. Depending on the work I'm doing, I can be paid by hours worked or I can set a fixed price with the client.
Have you been able to fit in easily in the professional environment? Is it difficult to enter the market?
Honestly, I must say it's not easy to move into the market. Even though speaking English helps a lot, there's a lot of rivalry in the creative fields, and being able to speak Dutch is almost essential.
What are the main skills an illustrator in The Netherlands must have?
As an illustrator you must be able to accept any kind of feedback, whether it's good or bad, as this is the way to learn and get better. Also, I think that sketching is something needed, even though many of us (me included) avoid it just to save time. Despite the fact that Adobe Illustrator makes it all easier, sketching your ideas beforehand on paper makes it all shape up and the work flow easier and faster.
Using different media, whether it's on paper, on murals, with vectors or through animations, an illustrator should feel comfortable in different formats. As an illustrator, you must be able to conceptualize your client's ideas in such a way that the final result will be attractive and at the same time it will reflect your client's aesthetic.
There, in The Netherlands, you have also worked for other studios and companies, what differences have you found between being part of a team and working as a freelance?
Until I got to The Netherlands I had never thought about working as a freelance. Nowadays I've been working as a freelance since January and it's actually not bad, but I also can't find many differences with the Spanish system. The thing is that here you only pay one fee to register as a freelance and then you just have to pay for what you bill, with a 21% VAT. However, even though this sounds great, as a registered citizen of The Netherlands, it is mandatory to pay for a private healthcare, which ends up being as much as what you would monthly pay to be a freelancer in Spain. Today, I still work with a team, but in a different way (as we all work from home), and the fact that I still can bill for external projects makes me enjoy what I do a lot more.
In a legal-administrative level, which are the procedures and requirements that a creative must fulfill to work as a freelancer?
Working as a freelancer in The Netherlands is very easy, as I have already mentioned in the previous question, you can register by paying a small fee and pretty much start working as a freelance by the next day. The only requirements needed to work as a freelance are having a BSN number, that is, being a registered citizen of The Netherlands and having a private healthcare that you pay monthly.
Is there an important illustration and/or design tradition or is it something more contemporary?
Design has always being present in this country, even though maybe more focused on industrial design. I believe that the position of the graphic designer is currently in a constant change, it keeps on progressing. Nowadays we use social media as a way of expression, we question everything and don't take anything for granted. This can be seen in murals as much as in advertising campaigns. The Netherlands is a country of contrasts, and we can clearly see this in their architecture, where you will find a combination of traditional and contemporary style.
Also, the most traditional design is growing at the moment, more creatives are interested in using screen printing and tampon printing as their printing technique. These techniques provide artwork with a unique kind of personality and value that digital printing can't.
You mention that you've also been working at a studio in London, are the working routines there more similar to the ones in Utrecht or to the ones in Spain?
I worked for a year in a studio based in London specialised in designing corporative images, stationery, brandbooks, packaging and web design.
Certainly, British habits are more similar to the Dutch ones, their lifestyle is very alike. For example, here where I live, most stores and companies close after six in the afternoon. Their schedules are completely different from the ones in Spain. Rarely does someone take a break to eat lunch and they're usually very flexible with checking in and out of work, just as it is in the UK.
However, I can't find many differences as in a professional level. In the end, the work routines are conferred by the workers and there are good and bad professionals as there are in anywhere else. I must say, that fortunately, I've always come across, in Spain as well as abroad, very talented people who remain eager to work. Art knows no frontiers, it knows about effort and perseverance.
Last but not least, what advice would you give to a designer or illustrator thinking about professionally settling in The Netherlands?
I encourage anyone who would like to give The Netherlands a chance. Beginnings are always hard but this is an amazing country, your work as a designer or illustrator is going to be more appreciated than it is in Spain and therefore the price for your work will increase. Anyone thinking about settling down here must know how to ride a bike and speak English. It never hurts to show some interest in learning Dutch, as this will be always appreciated by the locals.
With her passion about Graphic Designs, Illustrations and Art in general, she creates her own view of female Skateboarding! Carlota is telling us more about her secret habits, like her ability to pick up stuff with her toes, or even more important her amazing talent to design out of nothing, something really special! We are extremely excited to get to know this rad personality a bit more, so lean back and enjoy this lovely Interview with Carlota Novo Gonzalvo!
Hi Carlota, can you please introduce yourself to our readers?
Hi! My name is Carlota, I'm a 25 year old Spanish Graphic Designer and Illustrator and I have just recently moved to The Netherlands. I like drawing, skateboarding, 80's music, analogue photography and coffee. Fun fact about me: I can pick up stuff with my toes.
Luckily we crashed into your Instagram Account that showed us some of your Art and Graphic Designs. How did your journey started and what does creativity means to you?
I've been drawing since I was a little kid, always surrounded by pencils and markers. I took painting lessons, but that was not really my thing, I couldn't be completely free to draw whatever I wanted, so I stopped with that. After high school I was a bit lost with what I wanted to be in life, but then I found out about Graphic Design. That's when I figured that that's what I wanted to be, I wanted to make a change with my art, I wanted to become the person behind the brand, I wanted to be a Graphic Designer.
You already have been working for several Companies in Spain, England and now you're in the Netherlands. What do you find in those different Places and how does that come together?
Since I was very young I've always been adventurous and curious about many things. I've been traveling since I was a kid and my parents have always supported me in all of my decisions. I lived abroad in the US when I was 16, I've participated in International projects in Turkey and England, I lived in London and now I've been living in Utrecht for almost six months. I think life is too short to live always in the same place, you must get out, see the world, meet new people, try new cultures, and never judge, always be open to new experiences.
What advice would you give to other ladies who would like to get their meanings on to paper?
Just get a pencil and a paper and start doodling. I think drawing is all about practice, just like skateboarding. Drawing is definitely something you can learn to do. I try to draw something at least once a day, it may not mean anything but it helps you to improve and you get used to it.
Skateboarding means a lot to you, do you get your inspiration by exploring the streets on the wheels?
I started skateboarding when I was already "pretty old" but I've always been very interested about it. You don't see many girls skateboarding at my hometown, that's maybe one of the reasons why I didn't get on my board until my twenties. Living in London really opened my eyes about the skateboarding community. I felt very welcome and always looking forward to the monthly Girl Skate Jams. Skateboarding lets me see shapes and streets in a completely different way, and I think that's how my "Combinations" series started (Skateboarding chocolates).
What in general does the female Skateboard Community means to you as Artist?
As I mentioned before, the Skateboard Community helped me being more confident about my Art but also about myself, as I used to be a very insecure person before. Social media has also helped me with spreading out my art and most of the feedback I get back from it is very positive. I can see that people like what I do and that makes me want to keep on learning and try new styles and formats, from paper, to digital or even screen printing t-shirts with my own designs.
We could imagine that creativity is something that takes time and passion, how do you handle assignments who are not that inspiring for you?
Yes, creativity definitely takes time, but that doesn't matter when you love what you do. I've never really worked in the Skateboarding Industry, so pretty much everything you can see on my website or instagram is personal stuff that I do because I want to. I'm currently working for a Growth Hacking company and most of the work I do is focused on website design, stationery, illustrations for start-ups or logo designs. However, I always find the time to do what I like and self-learn new things, such as motion graphics.
You have such an amazing talent that overs you so many ways in the future, where would you like to take it in the next few years?
I would definitely love to see my own t-shirt designs in stores. It's something hard to achieve by my own, but it's something that I look forward to. I've sold t-shirts online before, and at the moment I'm selling a limited edition t-shirt that I designed to encourage women to skateboard and to give more visibility to the female skate scene.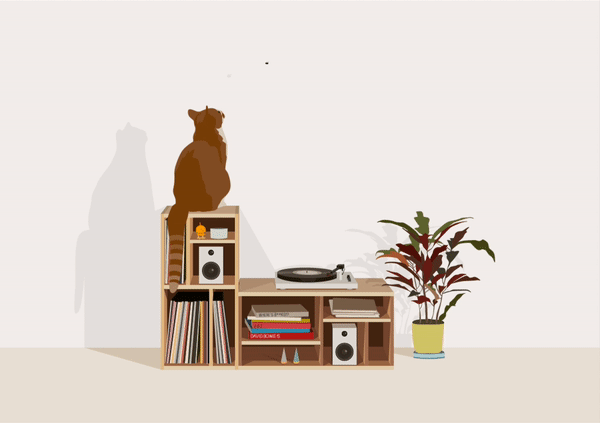 Hi, I'm Carlota Novo, a Spanish graphic designer and illustrator from Vigo, Spain. I've lived in the US and England before, and I'm currently living in The Netherlands. I've been drawing for as long as I can remember and the fact that I can actually work and make money with what I love doing the most, is very satisfying. Besides drawing, I like skateboarding, 80's music, analogue photography and coffee. Fun fact about me: I can pick up stuff with my toes.
Tell us about your aesthetic.
I'd say that my aesthetic is very simple. I normally like using flat colors, but sometimes I play with them to create some shading and contrast. I appreciate simplicity in my aesthetic. I think my work can vary a lot from one piece to another, sometimes I like to just use black and white and sometimes a bunch of colors. I'd say that my illustrations have a lot of graphic design on them, I always focus on the shapes, details and the best combination of colors. Sometimes I like adding a funny twist to my illustrations.
What is your favourite medium and why?
I mostly work digitally, Photoshop and Illustrator are my best friends when it comes to drawing because it allows me to go back and forth with my ideas and give me a lot of flexibility. I love being able to change from brush to brush to create a piece.
What is your artistic process like?
I usually start writing down the ideas I have in mind, then I do some research, like collecting visual references and materials. While doing all these things I like listening to music and pet my cat from time to time. Then I do some sketches, maybe on paper maybe not. After that, I start drawing on Illustrator or Photoshop, as sometimes I like to combine both of them to create my final drawing.
Who and/or what inspires your work?
I'm inspired by a lot of things, but mostly skateboarding and my cat Ollie. Music and movies are a big part of my inspiration as well. I'm a observer, so I like to notice the way people dress, their houses and the color palettes that surround me, and then I try to use this all in my drawings.
What role does art play in your life? How does it change the way you view the world?
Art allows me to express myself in a way that nothing else does. Drawing is such a big part of my life nowadays, it makes me happy and lets me forget about everything else.
Where did you study?
I studied Graphic Design at Aula D in Spain and graduated in 2014 (which feels like a loooong time ago now).
Where do you see yourself in five years?
Three years ago I was living in England, a year ago I was living in Spain and right now I'm living in The Netherlands. I have no idea where I'll be in five years but hopefully somewhere warm and sunny, living in a cozy apartment with my cat and making some rad graphics for some cool brands.
What about in ten?
More of the above but hopefully having things slightly more together and maybe with one more cat in my life.
What do you hope to achieve with your art?
Right now I'd like to give women in the skateboarding industry more visibility. The skateboarding industry is mostly run by men and I'd love to, somehow, give those rad skater women a voice. I'd also like to find my own drawing style, if that's even possible.
Now, tell us a little more about you as a person: What is your favourite food?
I love food, in general, but I can't stand spicy food and I'm lately into vegetarian dishes. However, my mom's tortilla de patatas (Spanish omelette) will always be my favorite food ever.
Favourite book? and favourite genre of music?
"Brooklyn follies" by Paul Auster. Indie rock, psychedelic pop.. right now I'm listening to "Colder than ice" by Pond.
What are your hobbies?
I wish I had some cool hobbies to mention right now, but when I have some free time I like cycling around, maybe chilling in the park, but also just watching some nice movie or playing Mario Kart. Coffee, I always enjoy a good coffee.
If you weren't an artist, what would you be?
I don't even know if I consider myself an artist, but if I wasn't into illustration and graphic design I think I would be very bored. Maybe I'd work as a gardener, so I could talk to plants instead of people.
Carlota Novo Gonzalvo es una ilustradora y diseñadora de Vigo (Galicia) que decidió hace algo menos de un año mudarse a Utrecht (Holanda) para crecer profesionalmente. Su trabajo gira mucho en torno al skateboarding, en especial, la visión de la mujer en «una industria creada por y para hombres». Una de estas colecciones con las que reivindica la imagen de la mujer en el mundo del skate es Skater Girls bajo los lemas Not Just Boys Fun y Skate Like a Girl.
¿Qué es lo que te hizo irte de España a Utrecht?
Galicia siempre será mi lugar favorito, pero desde que tengo uso de razón, viajar y poder experimentar otros estilos de vida y aprender de otras culturas, ha sido uno de mis objetivos en la vida. Mi familia siempre me ha apoyado en la toma de todas mis decisiones. Con 16 años tuve la oportunidad de vivir un año en Estados Unidos, experiencia que además de ayudarme a mejorar mi inglés, conocer a gente excepcional y valorar mucho más lo que tengo, alimentó mis ganas de seguir viajando y aprendiendo.
Estudié Diseño Gráfico en Vigo y un año después de graduarme, la empresa con la que hice las prácticas me ofreció trabajar en su agencia de Londres y acepté sin pensármelo dos veces. Las rutinas de trabajo y el ritmo de vida son totalmente diferentes al español pero me adapté rápidamente y a pesar de tener un clima horrible, el ser gallega me ha enseñado a apreciar la lluvia de otra manera.
Tras ese año decidí volver a casa, donde trabajé como diseñadora gráfica y manager de ventas para una tienda online y también como freelance para algunos proyectos locales. A finales del año pasado empecé a plantearme el mudarme de ciudad para poder ampliar mi carrera y crecer como diseñadora gráfica pero también como ilustradora, que es con lo que realmente disfruto. Antes de mudarme a Holanda ya había estado en este país unas cuantas veces, conocía su cultura y su estilo de vida. Su situación geográfica y el hecho de conocer a gente aquí fueron factores decisivos para mudarme definitivamente a Holanda.
Utrecht es la cuarta ciudad más importante de Holanda, pero ¿por qué allí y no otra ciudad como Ámsterdam?
Crecí en Vigo, una ciudad relativamente pequeña, y a pesar de que al mudarme buscaba vivir una experiencia totalmente distinta, también necesitaba sentirme cómoda. Ámsterdam es un ciudad increíble, tiene mil cosas que ofrecer, es mucho más internacional y es cierto que siempre hay algo que hacer, pero también es una ciudad muy caótica y que atrae a muchísimo turismo. Yo nunca he sido muy fan de las aglomeraciones, por eso Utrecht me pareció una buena opción.
Está situada exactamente en el centro de Holanda, lo que hace que el acceso a ciudades como Ámsterdam, Rotterdam, La Haya o Den Bosch sea muy fácil. Utrecht es una ciudad con mucho encanto, está llena de canales, terrazas, parques y existe una gran cultura del arte. Muchos workshops, conciertos gratuitos al aire libre y quedadas para cualquier tipo de actividad. Toda esa creatividad, ese acceso a la diversidad cultural fue lo que me atrajo y lo que determinó mi decisión de mudarme allí.
Tu trabajo gira mucho entorno al mundo del skateboarding, ¿esta afición surgió allí en Utrecht, o siempre ha estado presente?
La cultura del skate siempre me ha llamado mucho la atención, tanto el deporte en sí como todo lo que gira a su alrededor. El skate se basa en intentarlo, fallar y volver a intentarlo hasta que consigues sacar el truco que llevas practicando durante horas, y creo que esto mismo ocurre tanto en la ilustración como en el diseño gráfico. Uno siempre intenta mejorar, aprender nuevas técnicas y formatos para competir con los mejores, y para conseguirlo antes tienes que fallar. Considero que el skate y el arte son dos disciplinas que van de la mano, ambas me ayudan a expresarme aunque de manera diferente.
Cuando empecé a patinar no me importaba la marca del skate, me daba igual que fuese una tabla de Girl, Santa Cruz, Alien o Baker, sólo quería una ilustración chula. Como diseñadora gráfica, los gráficos de las tablas son algo imprescindible a la hora de elegir una nueva tabla, y hoy en día sigo sin centrarme tanto en la marca y más en los gráficos. Parte de mi inspiración viene de artistas que trabajan principalmente para la industria del skate, desde Ed Templeton con sus míticas ilustraciones de Toy Machine hasta Lucas Beaufort con sus monstruos de colores celebrando trucos de skate.
¿Qué diferencias notas más entre Utrecht, Holanda y España a nivel profesional? ¿Encuentras diferencias en procesos creativos, en organización empresarial, en equipos de trabajo, relación con compañeros, clientes, presupuestos, sueldos…?
Lo primero que me llamó la atención cuando empecé a trabajar aquí fue el cómo se valora mi trabajo, cómo entienden y respetan la profesión. No existe tanto intrusismo como en España, aquí cada uno se dedica a lo que sabe y no necesita tener conocimientos en campos con los que no está familiarizado.
Los holandeses son muy directos y abiertos en su comunicación, si algo no les gusta te lo harán saber, pero también son muy agradecidos en cuanto al trabajo bien hecho. En general tienen una gran cultura visual y si no están de acuerdo con tu precio te lo dirán y se buscarán a otro que cumpla con las características y condiciones que tienen en mente.
Poco después de instalarme en Holanda empecé a trabajar como freelance para una empresa holandesa centrada en el crecimiento de start-ups, empresas que acaban de empezar. En mi caso, trabajo desde casa, lo cual puede parecer el trabajo perfecto para muchos. Tengo libertad para organizar mi horario de trabajo, siempre llegando a las fechas de entrega y plazos acordados previamente. Siempre estoy en contacto con mis compañeros de trabajo, tanto via Slack como por teléfono. Dependiendo del trabajo del que se trate, cobro por horas trabajadas o bien por un precio cerrado acordado con el cliente antes de comenzar el proyecto.
¿Te has podido integrar fácilmente en el entorno profesional?, ¿Es difícil introducirse en el mercado?
Siendo sincera, he de decir que no es nada fácil introducirse en el mercado. A pesar de que el inglés te abre muchas puertas, existe mucha competencia tanto en diseño gráfico como en ilustración, y hablar holandés es prácticamente imprescindible.
¿Cuáles son las principales habilidades que debe tener hoy un ilustrador en Holanda?
Como ilustrador has de saber cómo aceptar las críticas, tanto buenas como malas, ya que ésta es la manera de aprender y mejorar. También creo que bocetar es algo necesario y que hoy en día muchos (y me meto en el saco) evitamos para ahorrar tiempo. A pesar de que Adobe Illustrator lo hace todo más fácil, bocetar las ideas antes en papel hace que todo coja forma y el trabajo fluya de manera mucho más rápida.
Trabajar con diferentes medios, ya sea en papel, en murales, con vectores o por medio de animaciones, un ilustrador debe sentirse cómodo trabajando en diferentes formatos. Como ilustrador tienes que ser capaz de conceptualizar las ideas del cliente de tal manera que el resultado final sea atractivo y a su vez cumpla con la estética de éste.
Allí, en Holanda, también has trabajado para otros estudios y compañías, ¿qué diferencias hay entre formar parte de un equipo a pasar a trabajar como freelance?
Hasta que llegué a Holanda nunca me había planteado el trabajar como freelance. Hoy en día llevo trabajando como freelance desde Enero y no está mal, pero tampoco encuentro tantas diferencias con respecto al sistema español. Es cierto que pagas una única cuota al darte de alta como autónomo y luego únicamente pagas por lo que facturas, con un IVA del 21%, pero es obligatorio tener un seguro médico privado que al final te sale casi como la cuota de autónomos de España. Hoy en día sigo trabajando con un equipo, pero de forma diferente (ya que trabajo desde casa), y el hecho de poder facturar por trabajos externos hace que disfrute mucho más de lo que hago.
A nivel administrativo-legal, ¿cuáles son los trámites y requisitos que hay que cumplir para trabajar como freelance para un creativo?
Trabajar como freelance en Holanda es muy sencillo, como ya he mencionado en la pregunta anterior, puedes darte de alta como autónomo pagando una pequeña cuota y empezar a trabajar al día siguiente. Los únicos requisitos necesarios para trabajar como freelance son el tener tu número BSN, es decir, estar registrado como ciudadano de Holanda y tener un seguro médico privado que pagas mensualmente.
¿Existe una tradición de ilustración y/o diseño importantes o es algo más actual?
El diseño siempre ha estado presente en este país, aunque quizás más enfocado al diseño industrial. Considero que actualmente la posición del diseñador gráfico está en constante cambio. Hoy en día utilizamos las redes sociales tanto como herramienta como medio de expresión, lo cuestionamos todo y no damos nada por sentado, y esto se puede ver representado tanto en murales como en campañas publicitarias. Holanda es un país de contrastes, y esto lo vemos claramente en la arquitectura, donde se mezcla lo tradicional con lo contemporáneo.
También el diseño más tradicional está creciendo en este país, cada vez se ve a más creativos interesados en el uso de técnicas de impresión como la serigrafía o la tampografía. Estas técnicas aportan un carácter y un valor único a la obra que la impresión digital no te da.
Explicas que estuviste trabajando también en un estudio en Londres, ¿las rutinas de trabajo de allí son más parecidas a las de Utrecht o a las de España?
Trabajé un año en un estudio en Londres especializado en el diseño de imágenes corporativas, papelería, libros de marca, packaging y diseño web.
Sin duda, los hábitos de los ingleses son muy parecidos a los holandeses, el estilo de vida mismo es muy similar. Por ejemplo, aquí a partir de las seis de la tarde la mayoría de tiendas y empresas cierran. Llevan horarios totalmente diferente a los españoles, apenas se para para comer y suelen ser muy flexibles con las entradas y salidas del trabajo, tal y como ocurre en Reino Unido.
Eso sí, a nivel profesional no encuentro demasiadas diferencias. Al fin y al cabo, las rutinas de trabajo las confieren los propios trabajadores y hay profesionales buenos y malos en todas partes. Yo he de decir, que afortunadamente, siempre me he topado (tanto dentro, como fuera de nuestras fronteras) con gente especialmente talentosa y con muchas ganas de trabajar. El arte no entiende de banderas, entiende de esfuerzo y de constancia.
Por último, ¿qué consejo le darías al diseñador o ilustrador que esté pensado en establecerse profesionalmente en Holanda?
Animo a todo aquel que quiera intentarlo en Holanda, todos los comienzos son difíciles pero es un país increíble, se valora el trabajo del ilustrador/diseñador mucho más que en España y por tanto el precio por ese trabajo es más alto. Cualquiera que quiera establecerse en Holanda tiene que saber andar en bici y hablar inglés. Nunca está de más tener interés en aprender holandés, ya que, eso lo valoran mucho.